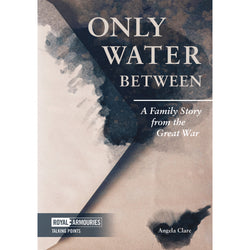 Taken from a family archive held at the Royal Armouries, Only Water Between tells the story of Captain Jack Adam and his family. Deployed to France in 1918, Jack leaves behind his beloved wife Gert and their three children. Separated by war, letters from home are a lifeline. Containing unpublished extracts and images of personal letters and photos, Only Water Between depicts a unique – yet all-too-common – story of family separation during the First World War. It describes the impact of soldiers missing in action, and the remarkable resilience of families left behind. Lost for many years, even the letters themselves offer a unique story of discovery and reunion. Angela Clare portrays a relationship of intimacy, trust and strength under pressure. As Jack writes to Gert, it was a time when there was 'only water between'.
About the author
Angela Clare worked for the Royal Armouries for several years and has shared this story through theatre, talks and in print. She works in museums, sharing historical collections, archives and stories with audiences through a variety of media.
Series: Talking Points
Product format: Paperback 
ISBN: 9781913013035
Extent: 52 pp
Pictures: 20 Illustrations, black & white
Format: 168 x 240 mm
Not completely happy with your order?
You can return or exchange unwanted items up to 35 days after purchase.
The only items that we cannot accept are earrings for pierced ears and perishable items, such as food or drink.
If there is an issue with the product please contact the Royal Armouries online shop customer service team via email at shopping@armouries.org.uk
Return postage and fees

If the item is unwanted or you cancel an order that has already been dispatched the return postage costs will be incurred by the customer.
If the item is faulty or you have been sent the wrong item then the postage cost will be incurred by the Royal Armouries. To ensure that you are refunded the correct amount please get a receipt from the post office and send us a copy via email, by either scanning the receipt or taking a photograph.
We recommend that you do get proof of postage for all items that you post to us as we are unable to take responsibility for returns that go missing in the post.
For all further information please see our FAQs page