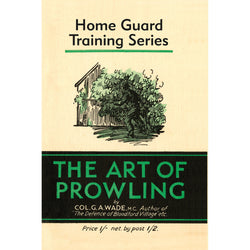 'It is extraordinary how reluctant the British soldier is to show cunning. We try to play the game of war as if it had rules for fair play like cricket and football.'
'If you want to make your spell of duty pass quickly, concentrate on prowling properly.'
'By Jove, look! There is a suspicious-looking man creeping under those bushes. It will be heaven help that rough chap if he makes a break!'
The Art of Prowling is one of a series of training booklets written by Colonel G. A. Wade for the newly-recruited Home Guard. This reproduction by the Royal Armouries shows how trainees during the Second World War learned to sneak up on the enemy without being seen.
Read it yourself and be awarded the Good Prowler's Badge!
Colonel G. A. Wade was a British soldier and author who wrote a series of training manuals for the British Home Guard in the expectation of a German invasion. The series was originally published by Gale & Polden.
Part of the Home Guard Training Series. Buy 3, pay for 2 across the series. Enter code HOMEGUARD at checkout.

ISBN: 978 0 94809 292 3
Dimensions: 180x122 mm
No. of pages: 40
Binding style: Hardback
Details of illustrations: 17 b/w illustrations
Not completely happy with your order?
You can return or exchange unwanted items up to 35 days after purchase.
The only items that we cannot accept are earrings for pierced ears and perishable items, such as food or drink.
If there is an issue with the product please contact the Royal Armouries online shop customer service team via email at shopping@armouries.org.uk
Return postage and fees

If the item is unwanted or you cancel an order that has already been dispatched the return postage costs will be incurred by the customer.
If the item is faulty or you have been sent the wrong item then the postage cost will be incurred by the Royal Armouries. To ensure that you are refunded the correct amount please get a receipt from the post office and send us a copy via email, by either scanning the receipt or taking a photograph.
We recommend that you do get proof of postage for all items that you post to us as we are unable to take responsibility for returns that go missing in the post.
For all further information please see our FAQs page