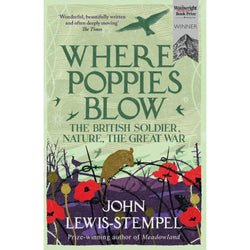 The natural history of the Western Front during the First World War

'If it weren't for the birds, what a hell it would be.'

During the Great War, soldiers lived inside the ground, closer to nature than many humans had lived for centuries. Animals provided comfort and interest to fill the blank hours in the trenches – bird-watching, for instance, was probably the single most popular hobby among officers. Soldiers went fishing in flooded shell holes, shot hares in no-man's land for the pot, and planted gardens in their trenches and billets. Nature was also sometimes a curse – rats, spiders and lice abounded, and disease could be biblical.

But above all, nature healed, and, despite the bullets and blood, it inspired men to endure. Where Poppies Blow is the unique story of how nature gave the British soldiers of the Great War a reason to fight, and the will to go on.
Publication date: Sept. 2017
Publisher: W&N
ISBN: 978-1780224916
Dimensions: 13 x 2.5 x 20 cm
No. of pages: 400
Binding style: Paperback
Not completely happy with your order?
You can return or exchange unwanted items up to 35 days after purchase.
The only items that we cannot accept are earrings for pierced ears and perishable items, such as food or drink.
If there is an issue with the product please contact the Royal Armouries online shop customer service team via email at shopping@armouries.org.uk
Return postage and fees

If the item is unwanted or you cancel an order that has already been dispatched the return postage costs will be incurred by the customer.
If the item is faulty or you have been sent the wrong item then the postage cost will be incurred by the Royal Armouries. To ensure that you are refunded the correct amount please get a receipt from the post office and send us a copy via email, by either scanning the receipt or taking a photograph.
We recommend that you do get proof of postage for all items that you post to us as we are unable to take responsibility for returns that go missing in the post.
For all further information please see our FAQs page