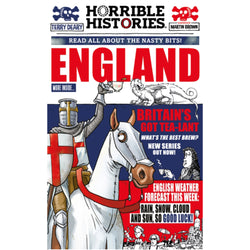 An eye-catching new edition of this Horrible Histories Special – with all the gruesome bits left in! Horrible Histories Special: England lets readers discover all the foul facts about England, including:
which monk tried to pinch the devil's nose with a pair of tongs
why some people in the Middle Ages ate dove droppings
and which English king was accused of being a werewolf.
With a bold look 
these bestselling titles
 are sure to be a huge hit with yet 
another generation of Terry Deary fans.
Not completely happy with your order?
You can return or exchange unwanted items up to 35 days after purchase.
The only items that we cannot accept are earrings for pierced ears and perishable items, such as food or drink.
If there is an issue with the product please contact the Royal Armouries online shop customer service team via email at shopping@armouries.org.uk
Return postage and fees

If the item is unwanted or you cancel an order that has already been dispatched the return postage costs will be incurred by the customer.
If the item is faulty or you have been sent the wrong item then the postage cost will be incurred by the Royal Armouries. To ensure that you are refunded the correct amount please get a receipt from the post office and send us a copy via email, by either scanning the receipt or taking a photograph.
We recommend that you do get proof of postage for all items that you post to us as we are unable to take responsibility for returns that go missing in the post.
For all further information please see our FAQs page