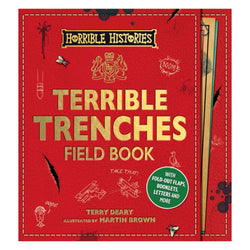 Terrible Trenches Field Book
Puts the Terrible Trenches in a whole new light! With fact file fold-outs, trench letters and much, much more. This commemorative guide to life on the Front Line marks 100 years since the end of the war with full-colour illustrations and paper novelty elements. From foul food to coping with legions of lice - discover all the dire details of life in the blood and mud of the First World War trenches.

Want to know . . .

how your own wee could save your life? which animals wore gas masks? why Big Bertha terrified the Brits? How would YOU survive? Get the facts - from both sides of the barbed wire - in this immersive and fascinating guide to the First World War from Horrible Histories duo, author, Terry Deary and illustrator, Martin Brown.
Not completely happy with your order?
You can return or exchange unwanted items up to 35 days after purchase.
The only items that we cannot accept are earrings for pierced ears and perishable items, such as food or drink.
If there is an issue with the product please contact the Royal Armouries online shop customer service team via email at shopping@armouries.org.uk
Return postage and fees

If the item is unwanted or you cancel an order that has already been dispatched the return postage costs will be incurred by the customer.
If the item is faulty or you have been sent the wrong item then the postage cost will be incurred by the Royal Armouries. To ensure that you are refunded the correct amount please get a receipt from the post office and send us a copy via email, by either scanning the receipt or taking a photograph.
We recommend that you do get proof of postage for all items that you post to us as we are unable to take responsibility for returns that go missing in the post.
For all further information please see our FAQs page