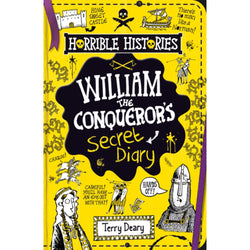 William the Conqueror's Secret Diary
Brand new from the bestselling team behind Horrible Histories! It's time to delve into the totally true (sort of) and incredibly intriguing pages of William the Conqueror's Secret Diary. Terry Deary steps into the mind of one of history's most annihilating kings, bringing you William the Conqueror's thoughts on: the Normans! England! Matilda! the French! military! the Church! battles! Hastings! Horrible Histories' Secret Diaries of the most extraordinary (and Horrible) characters of all time will blow your mind. Horrible Histories' Secret Diaries are the perfect introduction to important figures from history.
Fully illustrated throughout and told from the character's (sometimes delusional) point of view, each diary reveals the (quite likely) inner workings of their minds during the events that shaped their lives. Covering key moments in William's life and the history of the Middle Ages, the Secret Diary of William the Conqueror reveals his: ascension to the Duke of Normandy relations with the Church battles with the French meeting of Matilda feuding family battle of Hastings ... right up to the end of his life in 1087.
Each diary is the perfect introduction to a pivotal era in British History, brilliantly immersive and sure to capture the imagination!
Not completely happy with your order?
You can return or exchange unwanted items up to 35 days after purchase.
The only items that we cannot accept are earrings for pierced ears and perishable items, such as food or drink.
If there is an issue with the product please contact the Royal Armouries online shop customer service team via email at shopping@armouries.org.uk
Return postage and fees

If the item is unwanted or you cancel an order that has already been dispatched the return postage costs will be incurred by the customer.
If the item is faulty or you have been sent the wrong item then the postage cost will be incurred by the Royal Armouries. To ensure that you are refunded the correct amount please get a receipt from the post office and send us a copy via email, by either scanning the receipt or taking a photograph.
We recommend that you do get proof of postage for all items that you post to us as we are unable to take responsibility for returns that go missing in the post.
For all further information please see our FAQs page