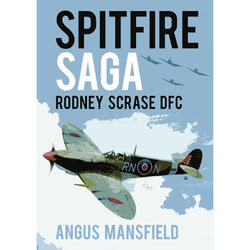 Rodney Scrase's life in the RAF began in an old airship shed when he took the King's shilling in May 1941. He learnt to fly at a British Flying Training School in America and went on to fly Spitfires with Nos 72 and 1 Squadrons, and was awarded the Distinguished Flying Cross in 1944. He was released from service with a record of four enemy aircraft destroyed and three damaged, having taken part in the invasions of North Africa, Sicily and Italy, following up with a stint as an instructor in the art of air-to-air gunnery in Egypt. He finished the war flying escort missions with No. 1 Squadron from Manston, Kent. In Spitfire Saga Angus Mansfield presents the unique story of one man's experience of flying the most iconic aircraft of the Second World War, using Rodney's own logbooks and first-hand interviews with him and several other pilots. Complete with thorough historical context and a selection of Rodney's personal photographs, this book is an excellent addition to any history enthusiast's library. A true insider's view of life as an RAF fighter pilot.
Publication date: Jan. 2019
Publisher: The History Press
ISBN: 978-0750989213
Dimensions: 15.9 x 2.3 x 23.5 cm
No. of pages: 304
Binding style: Paperback
Not completely happy with your order?
You can return or exchange unwanted items up to 35 days after purchase.
The only items that we cannot accept are earrings for pierced ears and perishable items, such as food or drink.
If there is an issue with the product please contact the Royal Armouries online shop customer service team via email at shopping@armouries.org.uk
Return postage and fees

If the item is unwanted or you cancel an order that has already been dispatched the return postage costs will be incurred by the customer.
If the item is faulty or you have been sent the wrong item then the postage cost will be incurred by the Royal Armouries. To ensure that you are refunded the correct amount please get a receipt from the post office and send us a copy via email, by either scanning the receipt or taking a photograph.
We recommend that you do get proof of postage for all items that you post to us as we are unable to take responsibility for returns that go missing in the post.
For all further information please see our FAQs page