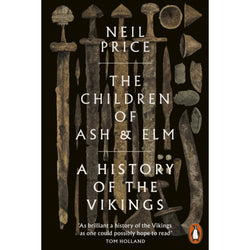 The Children of Ash & Elm
The 'Viking Age' is traditionally held to begin in June 793 when Scandinavian raiders attacked the monastery of Lindisfarne in Northumbria, and to end in September 1066, when King Harald Hardrada of Norway died leading the charge against the English line at the Battle of Stamford Bridge. This book, the most wide-ranging and comprehensive assessment of the current state of our knowledge, takes a refreshingly different view. It shows that the Viking expansion began generations before the Lindisfarne raid, and traces Scandinavian history back centuries further to see how these people came to be who they were.

The narrative ranges across the whole of the Viking diaspora, from Vinland on the eastern American seaboard to Constantinople and Uzbekistan, with contacts as far away as China. Based on the latest archaeology, it explores the complex origins of the Viking phenomenon and traces the seismic shifts in Scandinavian society that resulted from an economy geared to maritime war. Some of its most striking discoveries include the central role of slavery in Viking life and trade, and the previously unsuspected pirate communities and family migrations that were part of the Viking 'armies' - not least in England.

Especially, Neil Price takes us inside the Norse mind and spirit-world, and across their borders of identity and gender, to reveal startlingly different Vikings to the barbarian marauders of stereotype. He cuts through centuries of received wisdom to try to see the Vikings as they saw themselves - descendants of the first human couple, the Children of Ash and Elm. He also reminds us of the simultaneous familiarity and strangeness of the past, of how much we cannot know, alongside the discoveries that change the landscape of our understanding.
ISBN: 9780141984445
Not completely happy with your order?
You can return or exchange unwanted items up to 35 days after purchase.
The only items that we cannot accept are earrings for pierced ears and perishable items, such as food or drink.
If there is an issue with the product please contact the Royal Armouries online shop customer service team via email at shopping@armouries.org.uk
Return postage and fees

If the item is unwanted or you cancel an order that has already been dispatched the return postage costs will be incurred by the customer.
If the item is faulty or you have been sent the wrong item then the postage cost will be incurred by the Royal Armouries. To ensure that you are refunded the correct amount please get a receipt from the post office and send us a copy via email, by either scanning the receipt or taking a photograph.
We recommend that you do get proof of postage for all items that you post to us as we are unable to take responsibility for returns that go missing in the post.
For all further information please see our FAQs page