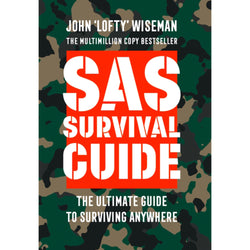 SAS Survival Guide : How to Survive in the Wild, on Land or Sea
THE MULTIMILLION COPY BESTSELLER THE ULTIMATE GUIDE TO SURVIVING ANYWHERE The Collins Gem SAS Survival Guide is the pocket companion for adventurers everywhere. From making camp and finding food in the wild to security and self-defence in the streets, be prepared on land or sea. SAS legend John 'Lofty' Wiseman's unrivalled guide will teach you: Preparation - Understanding and assembling latest, most resilient, kit.

Navigation - Skills, technologies and techniques to get you through unfamiliar terrain. Food and Health - Finding resources in your environment, feeding yourself, healing yourself and avoiding disease. Safety and Security - Recognising dangerous situations, defending yourself and saving others.

Disaster Survival - Dealing with unstable environmental conditions: what to do in the face of flash flooding or fast-spreading fire.

Dimensions: 38 x 30 x 18cm, 15L Capacity
Not completely happy with your order?
You can return or exchange unwanted items up to 35 days after purchase.
The only items that we cannot accept are earrings for pierced ears and perishable items, such as food or drink.
If there is an issue with the product please contact the Royal Armouries online shop customer service team via email at shopping@armouries.org.uk
Return postage and fees

If the item is unwanted or you cancel an order that has already been dispatched the return postage costs will be incurred by the customer.
If the item is faulty or you have been sent the wrong item then the postage cost will be incurred by the Royal Armouries. To ensure that you are refunded the correct amount please get a receipt from the post office and send us a copy via email, by either scanning the receipt or taking a photograph.
We recommend that you do get proof of postage for all items that you post to us as we are unable to take responsibility for returns that go missing in the post.
For all further information please see our FAQs page