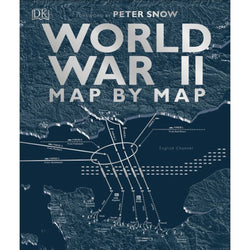 In this stunning visual history book, purpose-made maps reveal the full story of the Second World War. From the rise of the Axis powers to the aftermath of the atomic bomb attack on Hiroshima, this book shows how each step of the action took place. Each map is full of detail, charting the progress of the key events of World War II on land, sea, and air, including the Dunkirk evacuation, the attack on Pearl Harbor, the D-Day landings, the siege of Stalingrad, and the war in the Pacific.
As well as purpose-made maps, historical maps from both Allied and Axis countries give compelling insights into the course of the war. There are also timelines summarizing each stage of the conflict as it unfolded, while fascinating, large-scale photographs offer a closer look at life both on and off the battlefield, introducing topics such as blitzkrieg tactics, civilian life in wartime, code-breaking, and more.
Written by a team of historians headed by Richard Overy as consultant, World War II Map by Map shows how the deadliest conflict in history changed the face of our world. It is perfect for general readers, students, and military history enthusiasts everywhere. Includes a foreword by Peter Snow, broadcaster and historian.
Publication date:
 Sept. 2019
Publisher: 
DK
ISBN:
 024135871X
Dimensions:
 26.3 x 2.8 x 31 cm
No. of pages:
 288
Binding style:
 Hardcover
Not completely happy with your order?
You can return or exchange unwanted items up to 35 days after purchase.
The only items that we cannot accept are earrings for pierced ears and perishable items, such as food or drink.
If there is an issue with the product please contact the Royal Armouries online shop customer service team via email at shopping@armouries.org.uk
Return postage and fees

If the item is unwanted or you cancel an order that has already been dispatched the return postage costs will be incurred by the customer.
If the item is faulty or you have been sent the wrong item then the postage cost will be incurred by the Royal Armouries. To ensure that you are refunded the correct amount please get a receipt from the post office and send us a copy via email, by either scanning the receipt or taking a photograph.
We recommend that you do get proof of postage for all items that you post to us as we are unable to take responsibility for returns that go missing in the post.
For all further information please see our FAQs page