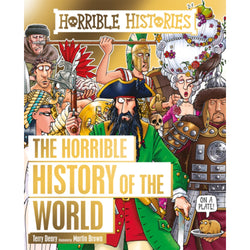 Horrible History of the World
The Horrible History of the World presents the foul but fascinating story of humans from brain-nibbling Neanderthals to terrified teenage soldiers in the twentieth century. You can discover: Why Alexander the Great banned beards What smelly sport was played by samurai warriors And who tried to bump off her enemies with a cake made with poisoned bath-water. It's all you ever need to know about the wicked world - all the gore and more!
ISBN: 9781407191713
Not completely happy with your order?
You can return or exchange unwanted items up to 35 days after purchase.
The only items that we cannot accept are earrings for pierced ears and perishable items, such as food or drink.
If there is an issue with the product please contact the Royal Armouries online shop customer service team via email at shopping@armouries.org.uk
Return postage and fees

If the item is unwanted or you cancel an order that has already been dispatched the return postage costs will be incurred by the customer.
If the item is faulty or you have been sent the wrong item then the postage cost will be incurred by the Royal Armouries. To ensure that you are refunded the correct amount please get a receipt from the post office and send us a copy via email, by either scanning the receipt or taking a photograph.
We recommend that you do get proof of postage for all items that you post to us as we are unable to take responsibility for returns that go missing in the post.
For all further information please see our FAQs page