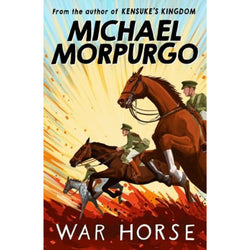 Before the Steven Spielberg film, before the National Theatre production, there was the classic children's novel...
In the deadly chaos of the First World War, one horse witnesses the reality of battle from both sides of the trenches. Bombarded by artillery, with bullets knocking riders from his back, Joey tells a powerful story of the truest friendships surviving in terrible times. One horse has the seen the best and the worst of humanity. The power of war and the beauty of peace. This is his story.
War Horse was adapted by Steven Spielberg as a major motion picture with Jeremy Irvine, Emily Watson, and Benedict Cumberbatch. The National Theatre production opened in 2007 and has enjoyed successful runs in the West End and on Broadway.
A great way of introducing young readers to the realities of WWI. Look out for Morpurgo's other war fiction including Friend or Foe, Waiting for Anya, King of the Cloud Forests and An Eagle in the Snow.
War Horse is a story of universal suffering for a universal audience by a writer who 'has the happy knack of speaking to both child and adult readers' (The Guardian).
Michael Morpurgo has written more than one hundred books for children and won the Whitbread Award, the Smarties Award, the Circle of Gold Award, the Children's Book Award and has been short-listed for the Carnegie Medal four times.
Publication date: Jun. 2017
Publisher: Egmont
ISBN: 978-1405226660
Dimensions: 19.8 x 1.2 x 12.9 cm
No. of pages: 192
Binding style: Paperback
Not completely happy with your order?
You can return or exchange unwanted items up to 35 days after purchase.
The only items that we cannot accept are earrings for pierced ears and perishable items, such as food or drink.
If there is an issue with the product please contact the Royal Armouries online shop customer service team via email at shopping@armouries.org.uk
Return postage and fees

If the item is unwanted or you cancel an order that has already been dispatched the return postage costs will be incurred by the customer.
If the item is faulty or you have been sent the wrong item then the postage cost will be incurred by the Royal Armouries. To ensure that you are refunded the correct amount please get a receipt from the post office and send us a copy via email, by either scanning the receipt or taking a photograph.
We recommend that you do get proof of postage for all items that you post to us as we are unable to take responsibility for returns that go missing in the post.
For all further information please see our FAQs page