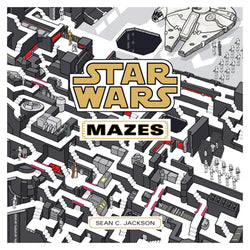 This one-of-a-kind maze book set in a galaxy far, far away is a fun, interactive way to explore the Star WarsTM universe. Expert maze creator and lifelong Star Wars fan Sean C. Jackson brings the saga to life through more than 30 beautifully illustrated mazes of iconic scenes and locations ranging from the forest moon of Endor to Bespin's Cloud City, the dark side planet of Exegol, Jabba's palace, pod races, clone armies, and much more.

Each full-color maze includes notes about the environment and special bonus elements to find hidden along the way. Star Wars fans of all ages will enjoy racing through the corridors of the Death Star, scavenging inside a fallen star destroyer on Jakku, searching the rocky cliffs of Ahch-To, and much more. * EXPLORE A GALAXY FAR, FAR AWAY: Immerse yourself in a brand new way when you explore your favorite Star Wars locations via exciting mazes.

* ACCOMPLISH MISSIONS WITH EACH MAZE: Each of the dozens of unique mazes comes with its own mission that's accomplished by finishing the maze, such as "Return to the base to escort the last transport off planet," "Take the smuggler Han Solo back to your ship," and "Locate Jedi Master Yoda in the mysterious swamp."* EXTRA, FINDABLE ITEMS IN EACH MAZE: In addition to the maze itself, each includes other game activities or elements to find. * BEAUTIFULLY ILLUSTRATED AND REPLAYABLE: The gorgeously detailed full color mazes may be solved by pen or pencil, but using a non-writing item to follow the paths leaves the book ready to replay. (c) & TM LUCASFILM LTD.
Not completely happy with your order?
You can return or exchange unwanted items up to 35 days after purchase.
The only items that we cannot accept are earrings for pierced ears and perishable items, such as food or drink.
If there is an issue with the product please contact the Royal Armouries online shop customer service team via email at shopping@armouries.org.uk
Return postage and fees

If the item is unwanted or you cancel an order that has already been dispatched the return postage costs will be incurred by the customer.
If the item is faulty or you have been sent the wrong item then the postage cost will be incurred by the Royal Armouries. To ensure that you are refunded the correct amount please get a receipt from the post office and send us a copy via email, by either scanning the receipt or taking a photograph.
We recommend that you do get proof of postage for all items that you post to us as we are unable to take responsibility for returns that go missing in the post.
For all further information please see our FAQs page