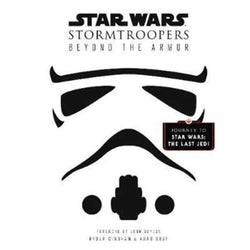 Star Wars Stormtrooopers: Beyond the Armour
Foreword by John Boyega Just in time for the next blockbuster, Star Wars: The Last Jedi, this unique and beautifully designed compendium with removable features traces one of the franchise's most iconic characters-the stormtrooper-from initial development through all nine Star Wars movies to their many iterations in TV, comics, videogames, novels, and pop-culture. Star Wars: A New Hope, the very first installment in the beloved science-fiction series, introduced the Imperial stormtroopers-the army of the fearsome and tyrannical Galactic Empire. Charged with establishing Imperial authority and suppressing resistance, these terrifying, faceless, well-disciplined soldiers in white have become a universal symbol of oppression.

Star Wars Stormtroopers explores these striking warriors and their evolution in depth for the first time. Ryder Windham and Adam Bray trace the roots of their creation and design, and explore how these elite troops from a galaxy far, far away have been depicted in movies, cartoons, comics, novels, and merchandizing. Filled with photographs, illustrations, story boards, and other artwork, this lavish officially licensed book comes complete with removable features, including posters, stickers, replica memorabilia and more, making it an essential keepsake for every Star Wars fan, as well as military, design, and film aficionados.
Format: Hardback
176 pages, over 100 photographs & illustrations
ISBN:9780062681171
Dimensions:306 x 226 x 22 (mm)
Not completely happy with your order?
You can return or exchange unwanted items up to 35 days after purchase.
The only items that we cannot accept are earrings for pierced ears and perishable items, such as food or drink.
If there is an issue with the product please contact the Royal Armouries online shop customer service team via email at shopping@armouries.org.uk
Return postage and fees

If the item is unwanted or you cancel an order that has already been dispatched the return postage costs will be incurred by the customer.
If the item is faulty or you have been sent the wrong item then the postage cost will be incurred by the Royal Armouries. To ensure that you are refunded the correct amount please get a receipt from the post office and send us a copy via email, by either scanning the receipt or taking a photograph.
We recommend that you do get proof of postage for all items that you post to us as we are unable to take responsibility for returns that go missing in the post.
For all further information please see our FAQs page