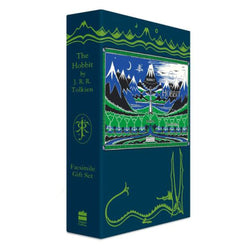 The Hobbit Facsimile Gift Edit
This replica of the rare first edition of The Hobbit is the only edition of the original version of the story before it was re-edited by Tolkien. The original was printed in 1937 with only 1500 copies produced, making the original edit, complete with its beautiful cover design and accompanying illustrations, hard to come by. This reprint of the first edition makes a wonderful gift for anyone wanting to appreciate the tale in its original form.
The Royal Armouries has a permanent display of five heroic swords based on the prop weapons used in the epic 'Lord of the Rings' and 'The Hobbit' movies. You can find out more here.
Dimensions: Approx. 22cm x 17cm x 5cm
Not completely happy with your order?
You can return or exchange unwanted items up to 35 days after purchase.
The only items that we cannot accept are earrings for pierced ears and perishable items, such as food or drink.
If there is an issue with the product please contact the Royal Armouries online shop customer service team via email at shopping@armouries.org.uk
Return postage and fees

If the item is unwanted or you cancel an order that has already been dispatched the return postage costs will be incurred by the customer.
If the item is faulty or you have been sent the wrong item then the postage cost will be incurred by the Royal Armouries. To ensure that you are refunded the correct amount please get a receipt from the post office and send us a copy via email, by either scanning the receipt or taking a photograph.
We recommend that you do get proof of postage for all items that you post to us as we are unable to take responsibility for returns that go missing in the post.
For all further information please see our FAQs page