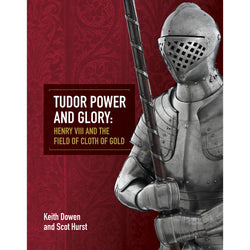 Tudor Power & Glory: Henry VIII and the Field of Cloth and Gold
Published to coincide with the 500th anniversary of the greatest tournament of the Tudor age – the Field of Cloth of Gold, which took place in 1520.
The Field of Cloth of Gold was one of the greatest courtly spectacles of the sixteenth century. A carefully-orchestrated meeting outside Calais between Henry VIII and Francis I, it encapsulated Henry's imperial ambitions and confirmed the role of the tournament in international diplomacy.

Here, Keith Dowen and Scot Hurst reveal the glamour and excitement of the Field of Cloth of Gold. Using surviving artefacts and important archival material, they illustrate how England began the transition from being a small nation on the edge of Europe to becoming a global empire with power and influence. The armour that was created for the event was made possible by Henry VIII's new armoury at Greenwich and his existing armoury at the Tower of London.

Tudor Power and Glory explains the skill of the armourers as they prepared for the tournament, the fighting that took place on horse and on foot, and the significance of the Field of Cloth of Gold as a political event as England and France, two emerging nations of old Europe, took their places on the world stage.
Keith Dowen is Assistant Curator at the Royal Armouries Museum, and author of Arms and Armour of the English Civil Wars (2019). He has presented and published widely on late medieval and early modern arms and armour, and on British military history. Scot Hurst is Assistant Curator at the Royal Armouries Museum.
Publication date: TBC
ISBN: 978 1 91301 300 4
Dimensions: 234x156 mm
No. of pages: 80
Binding style: Paperback
Details of illustrations: 90 colour illustrations
Publication Date: April 2020
Publisher: Royal Armouries
Pages: 80
Cover: Paperback
Illustrations: 90 colour illustrations
Dimensions: 234 x 156 mm
ISBN: 9781913013004
Not completely happy with your order?
You can return or exchange unwanted items up to 35 days after purchase.
The only items that we cannot accept are earrings for pierced ears and perishable items, such as food or drink.
If there is an issue with the product please contact the Royal Armouries online shop customer service team via email at shopping@armouries.org.uk
Return postage and fees

If the item is unwanted or you cancel an order that has already been dispatched the return postage costs will be incurred by the customer.
If the item is faulty or you have been sent the wrong item then the postage cost will be incurred by the Royal Armouries. To ensure that you are refunded the correct amount please get a receipt from the post office and send us a copy via email, by either scanning the receipt or taking a photograph.
We recommend that you do get proof of postage for all items that you post to us as we are unable to take responsibility for returns that go missing in the post.
For all further information please see our FAQs page