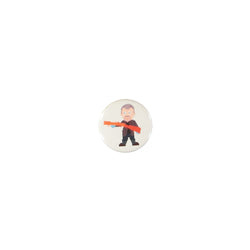 Jonathan Ferguson with Blanch-Chevallier button badge
As you may know our regular YouTube and social media series What Is This Weapon? hosted by Royal Armouries Keeper of Firearms and Artillery Jonathan Ferguson, continues to go from strength to strength, attracting audiences from around the world.
In each episode Jonathan examines the rarest and most obscure guns from history, contextualising their unique historical footnotes within the wider story of firearms, their development, and employment in conflict.
What is this Weapon is marking its 100th episode with its first ever, live show. Our Keeper of Firearms and Artillery and star of the series, Jonathan Ferguson will be presenting one of our most exciting weapons to date to an audience of 400 fans onsite at our museum in Leeds. The series, which featured its inaugural weapon in March 2021 showcases obscure, rare, and outright wacky weapons from across the history of firearms development.

The pixel artwork was designed by French artist and game designer, Gaëlyk Leclerc-Keroullé. Gaëlyk, a fan of the series themselves, created the work for a web-based video game in which Jonathan Ferguson acquires cursed weapons to defeat an army of scarecrows. The artist captured Jonathan's trademark blazer/t-shirt combo, complete with curatorial gloves.
This badge features Jonathon Ferguson holding the Blanch-Chevallier grenade launcher.
Not completely happy with your order?
You can return or exchange unwanted items up to 35 days after purchase.
The only items that we cannot accept are earrings for pierced ears and perishable items, such as food or drink.
If there is an issue with the product please contact the Royal Armouries online shop customer service team via email at shopping@armouries.org.uk
Return postage and fees

If the item is unwanted or you cancel an order that has already been dispatched the return postage costs will be incurred by the customer.
If the item is faulty or you have been sent the wrong item then the postage cost will be incurred by the Royal Armouries. To ensure that you are refunded the correct amount please get a receipt from the post office and send us a copy via email, by either scanning the receipt or taking a photograph.
We recommend that you do get proof of postage for all items that you post to us as we are unable to take responsibility for returns that go missing in the post.
For all further information please see our FAQs page