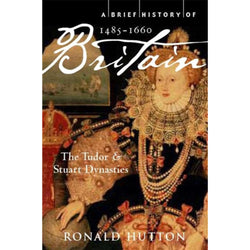 A Brief History of Britain 1485-1660: The Tudor and Stuart Dynasties
From the death of Richard III on Bosworth Field in 1485 to the execution of Charles I after the Civil Wars of 1642-48, England was transformed by two dynasties.

First, the Tudors, who had won the crown on the battlefield, changed both the nature of kingship and the nation itself. England became Protestant and began to establish itself as a trading power; facing down seemingly impossible odds, it defeated its enemies on land and sea. But after a century, Elizabeth I died with no heir and the crown was passed to the Stuarts, who sought to remould the kingdom in their own image.

Leading authority on the history of the British Isles in the sixteenth and seventeenth centuries, Ronald Hutton brilliantly recreates the political landscape of this early modern period and shows how the modern nation was forged in these febrile, transformative years. Combining skillful pen portraits of the leading figures of the day with descriptions of its culture, economics and vivid accounts of everyday life, Hutton provides telling insights into this critical period on Britain's national history.

This the second book in the landmark four-volume Brief History of Britain which brings together leading historians to tell Britain's story, from the Norman Conquest of 1066 to the present day. Combining the latest research with accessible and entertaining story-telling, the series is the ideal introduction for students and general readers.
Publication date: June 2011
Publisher: Robinson
ISBN: 1845297040
Dimensions: 13 x 2.2 x 19.7 cm
No. of pages: 448
Binding style: Paperback


Not completely happy with your order?
You can return or exchange unwanted items up to 35 days after purchase.
The only items that we cannot accept are earrings for pierced ears and perishable items, such as food or drink.
If there is an issue with the product please contact the Royal Armouries online shop customer service team via email at shopping@armouries.org.uk
Return postage and fees

If the item is unwanted or you cancel an order that has already been dispatched the return postage costs will be incurred by the customer.
If the item is faulty or you have been sent the wrong item then the postage cost will be incurred by the Royal Armouries. To ensure that you are refunded the correct amount please get a receipt from the post office and send us a copy via email, by either scanning the receipt or taking a photograph.
We recommend that you do get proof of postage for all items that you post to us as we are unable to take responsibility for returns that go missing in the post.
For all further information please see our FAQs page