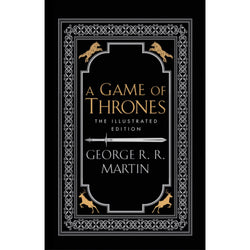 Published in celebration of the twentieth anniversary of George R. R. Martin's landmark series, this lavishly illustrated special edition of A Game of Thrones-with gorgeous full-page illustrations in every chapter-revitalizes the fantasy masterpiece that became a cultural phenomenon.

In a land where summers can last decades and winters a lifetime, trouble is brewing. The cold is returning, and in the frozen wastes to the North of Winterfell, sinister and supernatural forces are massing beyond the kingdom's protective Wall. At the centre of the conflict lie the Starks of Winterfell, a family as harsh and unyielding as the land they were born to.

Sweeping from a region of brutal cold to a distant summertime kingdom of epicurean plenty, here is a tale of lords and ladies, soldiers and sorcerers, assassins and bastards, who come together in a time of grim omens. Amid plots and counterplots, tragedy and betrayal, victory and terror, the fate of the Starks, their allies, and their enemies hangs perilously in the balance, as each endeavours to win that deadliest of conflicts: the game of thrones.
A perfect gift for any Game of Thrones fan, this gift will be cherished for a lifetime.
Not completely happy with your order?
You can return or exchange unwanted items up to 35 days after purchase.
The only items that we cannot accept are earrings for pierced ears and perishable items, such as food or drink.
If there is an issue with the product please contact the Royal Armouries online shop customer service team via email at shopping@armouries.org.uk
Return postage and fees

If the item is unwanted or you cancel an order that has already been dispatched the return postage costs will be incurred by the customer.
If the item is faulty or you have been sent the wrong item then the postage cost will be incurred by the Royal Armouries. To ensure that you are refunded the correct amount please get a receipt from the post office and send us a copy via email, by either scanning the receipt or taking a photograph.
We recommend that you do get proof of postage for all items that you post to us as we are unable to take responsibility for returns that go missing in the post.
For all further information please see our FAQs page