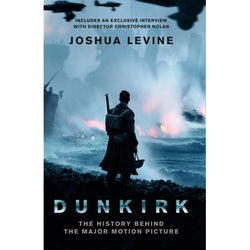 Dunkirk: The History Behind the Motion Picture
The epic true story of Dunkirk - Now a major motion picture, written adn directed by Christopher Nolan and starring Kenneth Branagh, Tom Hardy and Mark Rylance.
In 1940, at the French port of Dunkirk, more than 300,000 trapped Allied troops were dramatically rescued from destruction at the hands of Nazi Germany by an extraordinary seaborne evacuation. The true history of the soldiers, sailors, airmen and civilians involved in the nine-day skirmish has passed into legend. Now, the story Winston Churchill described as a 'miracle' is narrated by bestselling author Joshua Levine in its full, sweeping context, including new interviews with veterans and survivors.
Told from the viewpoints of land, sea and air, Joshua Levine's Dunkirk is a dramatic account of a defeat that paved the way to ultimate victory and preserved liberty for generations to come.
Publication date: Jun. 2017
Publisher: William Morrow & Company
ISBN: 978-0062740304
Dimensions: 13.5 x 2.1 x 20.3 cm
No. of pages: 368
Binding style: Paperback
Not completely happy with your order?
You can return or exchange unwanted items up to 35 days after purchase.
The only items that we cannot accept are earrings for pierced ears and perishable items, such as food or drink.
If there is an issue with the product please contact the Royal Armouries online shop customer service team via email at shopping@armouries.org.uk
Return postage and fees

If the item is unwanted or you cancel an order that has already been dispatched the return postage costs will be incurred by the customer.
If the item is faulty or you have been sent the wrong item then the postage cost will be incurred by the Royal Armouries. To ensure that you are refunded the correct amount please get a receipt from the post office and send us a copy via email, by either scanning the receipt or taking a photograph.
We recommend that you do get proof of postage for all items that you post to us as we are unable to take responsibility for returns that go missing in the post.
For all further information please see our FAQs page