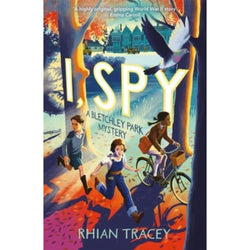 I, Spy: A Bletchley Park mystery
When she's not at school, there's nothing she likes more than helping her dad in the garages. Then the war begins and everything at Bletchley changes. Robyn is assigned to help with the carrier pigeons that take messages to the Allies.

But first, she must sign the Official Secrets Act and is ordered not to leave the grounds of the park. While Bletchley is buzzing with people recruited for the war effort and all eyes are on the skies, Robyn becomes convinced that there's something sinister going on within Bletchley Park itself. Together with her friends Mary and Ned, Robyn resolves to uncover the enemy in their midst .
ISBN: 9781800784406
Not completely happy with your order?
You can return or exchange unwanted items up to 35 days after purchase.
The only items that we cannot accept are earrings for pierced ears and perishable items, such as food or drink.
If there is an issue with the product please contact the Royal Armouries online shop customer service team via email at shopping@armouries.org.uk
Return postage and fees

If the item is unwanted or you cancel an order that has already been dispatched the return postage costs will be incurred by the customer.
If the item is faulty or you have been sent the wrong item then the postage cost will be incurred by the Royal Armouries. To ensure that you are refunded the correct amount please get a receipt from the post office and send us a copy via email, by either scanning the receipt or taking a photograph.
We recommend that you do get proof of postage for all items that you post to us as we are unable to take responsibility for returns that go missing in the post.
For all further information please see our FAQs page