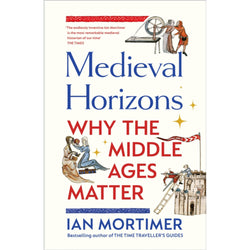 Medieval Horizons: Why the Middle Ages Matter
We tend to think of the Middle Ages as a dark, backward and unchanging time characterised by violence, ignorance and superstition. By contrast we believe progress arose from science and technological innovation, and that inventions of recent centuries created the modern world. We couldn't be more wrong.

As Ian Mortimer shows in this fascinating book, people's horizons - their knowledge, experience and understanding of the world - expanded dramatically. Life was utterly transformed between 1000 and 1600, marking the transition from a warrior-led society to that of Shakespeare. Just as The Time Traveller's Guide to Medieval England revealed what it was like to live in the fourteenth century, Medieval Horizons provides the perfect primer to the era as a whole.

It outlines the enormous cultural changes that took place - from literacy to living standards, inequality and even the developing sense of self - thereby correcting misconceptions and presenting the period as a revolutionary age of fundamental importance in the development of the Western world.

Publication date: 23 Feb 2023
Publisher: Vintage Publishing
Dimensions: 16 x 24 x 2.8 cm
Binding style: Hardcover
ISBN: 9781847927446
Not completely happy with your order?
You can return or exchange unwanted items up to 35 days after purchase.
The only items that we cannot accept are earrings for pierced ears and perishable items, such as food or drink.
If there is an issue with the product please contact the Royal Armouries online shop customer service team via email at shopping@armouries.org.uk
Return postage and fees

If the item is unwanted or you cancel an order that has already been dispatched the return postage costs will be incurred by the customer.
If the item is faulty or you have been sent the wrong item then the postage cost will be incurred by the Royal Armouries. To ensure that you are refunded the correct amount please get a receipt from the post office and send us a copy via email, by either scanning the receipt or taking a photograph.
We recommend that you do get proof of postage for all items that you post to us as we are unable to take responsibility for returns that go missing in the post.
For all further information please see our FAQs page