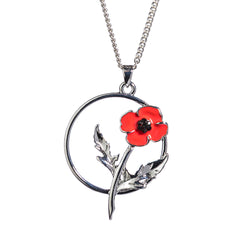 This poppy pendant is a fabulous and striking alternative to the traditional paper or silk poppy associated with the Royal British Legion.
Present this necklace to your loved one in its luxury white presentation box, complete with an extract from John McCrae's iconic poem, In Flanders Fields. This is a fantastic fashion accessory for anyone who takes time to remember those who lost their lives in times of conflict.
The Poppy Jewellery range features four and five petal flowers rather than the traditional two petal Royal British Legion poppy.  In addition to this fabulous necklace, we have a range of poppy earrings and bracelets which complete this unique jewellery set.

The poppy is a durable and persevering flower which grew in its thousands among desolate and barren battlegrounds. Its natural associations with endurance, determination and rebirth saw it adopted as a symbol of remembrance for those who lost their lives in the First World War. Lt John McCrae's 1915 poem, In Flanders Fields, helped secure the poppy's image as a hallmark of sacrifice and remembrance;
"In Flanders fields the poppies blow between the crosses, row on row."
10% of proceeds from the sales of the collection are donated to Combat Stress and SSAFA, mental health support charities for active soldiers and veterans.
Materials: Enamelled metal
Dimensions: 400 mm chain, 290 mm drop with a 20 x 20 mm pendant.
Shop other designs in the Poppies range.
Not completely happy with your order?
You can return or exchange unwanted items up to 35 days after purchase.
The only items that we cannot accept are earrings for pierced ears and perishable items, such as food or drink.
If there is an issue with the product please contact the Royal Armouries online shop customer service team via email at shopping@armouries.org.uk
Return postage and fees

If the item is unwanted or you cancel an order that has already been dispatched the return postage costs will be incurred by the customer.
If the item is faulty or you have been sent the wrong item then the postage cost will be incurred by the Royal Armouries. To ensure that you are refunded the correct amount please get a receipt from the post office and send us a copy via email, by either scanning the receipt or taking a photograph.
We recommend that you do get proof of postage for all items that you post to us as we are unable to take responsibility for returns that go missing in the post.
For all further information please see our FAQs page