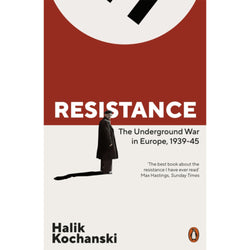 Resistance: The Underground War in Europe, 1939-1945
A sweeping history of occupation and resistance in war-torn Europe, from the acclaimed author of The Eagle Unbowed. Across the whole of Nazi-ruled Europe the experience of occupation was sharply varied. Some countries - such as Denmark - were within tight limits allowed to run themselves. Others - such as France - were constrained not only by military occupation but by open collaboration.

In a historical moment when Nazi victory seemed permanent and irreversible, the question 'why resist?' was therefore augmented by 'who was the enemy?'. Resistance is an extraordinarily powerful, humane and haunting account of how and why all across Nazi-occupied Europe some people decided to resist the Third Reich. This could range from open partisan warfare in the occupied Soviet Union to dangerous acts of defiance in the Netherlands or Norway.

Some of these resistance movements were entirely home-grown, others supported by the Allies. Like no other book, Resistance shows the reader just how difficult such actions were. How could small bands of individuals undertake tasks which could lead not just to their own deaths but those of their families and their entire communities?Filled with powerful and often little-known stories, Halik Kochanski's major new book is a fascinating examination of the convoluted challenges faced by those prepared to resist the Germans, ordinary people who carried out exceptional acts of defiance and resistance.

ISBN: 9780141979014
Not completely happy with your order?
You can return or exchange unwanted items up to 35 days after purchase.
The only items that we cannot accept are earrings for pierced ears and perishable items, such as food or drink.
If there is an issue with the product please contact the Royal Armouries online shop customer service team via email at shopping@armouries.org.uk
Return postage and fees

If the item is unwanted or you cancel an order that has already been dispatched the return postage costs will be incurred by the customer.
If the item is faulty or you have been sent the wrong item then the postage cost will be incurred by the Royal Armouries. To ensure that you are refunded the correct amount please get a receipt from the post office and send us a copy via email, by either scanning the receipt or taking a photograph.
We recommend that you do get proof of postage for all items that you post to us as we are unable to take responsibility for returns that go missing in the post.
For all further information please see our FAQs page