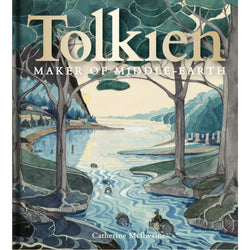 Tolkien: Maker of Middle Earth
This richly illustrated book explores the huge creative endeavor behind Tolkien's enduring popularity. Lavishly illustrated with over 300 images of his manuscripts, drawings, maps and letters, the book traces the creative process behind his most famous literary works - 'The Hobbit', 'The Lord of the Rings' and 'The Silmarillion' and reproduces personal photographs and private papers, some of which have never been seen before in print. Tolkien drew on his deep knowledge of medieval literature and language to inform his literary imagination.

Six introductory essays cover some of the main themes in Tolkien's life and work including the influence of northern languages and legends on the creation of his own legendarium; his concept of 'Faerie' as a literary construct; the central importance of his invented languages in his fantasy writing; his visual imagination and its emergence in his artwork; and the encouragement he derived from the literary group known as the Inklings. This book brings together the largest collection of original Tolkien material ever assembled in a single volume. Drawing on the archives of the Tolkien collections at the Bodleian Libraries, Oxford, and Marquette University, Milwaukee, as well as private collections, this exquisitely produced catalogue draws together the worlds of J.R.R.

Tolkien - scholarly, literary, creative and domestic - offering a rich and detailed understanding and appreciation of this extraordinary author.
Format: Hardback
416 pages, 312 Illustrations, colour
ISBN:
9781851244850
Weight:
1828g
Dimensions:
262 x 239 x 37 

(mm)
The Royal Armouries has a permanent display of five heroic swords based on the prop weapons used in the epic 'Lord of the Rings' and 'The Hobbit' movies. You can find out more here.
Not completely happy with your order?
You can return or exchange unwanted items up to 35 days after purchase.
The only items that we cannot accept are earrings for pierced ears and perishable items, such as food or drink.
If there is an issue with the product please contact the Royal Armouries online shop customer service team via email at shopping@armouries.org.uk
Return postage and fees

If the item is unwanted or you cancel an order that has already been dispatched the return postage costs will be incurred by the customer.
If the item is faulty or you have been sent the wrong item then the postage cost will be incurred by the Royal Armouries. To ensure that you are refunded the correct amount please get a receipt from the post office and send us a copy via email, by either scanning the receipt or taking a photograph.
We recommend that you do get proof of postage for all items that you post to us as we are unable to take responsibility for returns that go missing in the post.
For all further information please see our FAQs page